This blog post has been written by Lewes Community Allotment member Karine Wright. She and three other Allotment members are taking part in a two-day community involvement project at Charleston Farmhouse. Another member, Clare Rudeback, took the accompanying photographs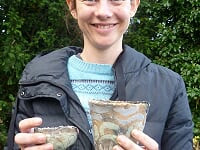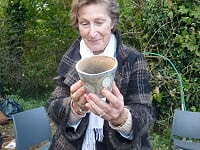 We are travelling through beautiful downland scenery on a sunny morning. Destination: Charleston Farmhouse, at the foot of the South Downs, famous home of infinitely creative members of the early/mid-twentieth century Bloomsbury Group. And the work of Quentin Bell, passionate Charleston potter -  among other talents - will be our inspiration for a day of nature-connected pottery.
As members of Lewes Community Allotment we are well aware of the wonderful benefits of working in nature with like-minded people. And Flourish, the umbrella project for the Allotment, has made it possible for us to extend this experience into a two-day course of Ceramics in Nature, facilitated by Lucy Bailey, Community Engagement Coordinator at Charleston Farmhouse, and led by artist and teacher Ruby Taylor (Native Hands).
Ruby, we soon discover, is a great talent in her chosen art, but also in the way she makes us feel comfortable in the group and inspires us to delve into our creativity to transform a natural material into our own work of art.
After briefly introducing ourselves and our expectations of the course, we are invited by Ruby to share a few minutes of meditation, a much-appreciated way to settle into action.
We are sitting around a table in Quentin Bell's original pottery looking intently at a number of open kiln fired clay objects displayed before us. Our eyes and minds are making an exciting journey from fresh clay to finished shape ready for firing.  And the ball of local clay we hold in our hands is almost set to be sculpted. First it will need to be mixed with grog: pieces of fired clay, which we grind. It's quite a noisy job and we move our working equipment through the studio doors into the garden to continue the grinding there in the open air. Next stage: grogging and wedging. Ruby guides us through this preparation of the clay, a relaxing, rhythmic movement, gradually incorporating the grog into the fresh clay until evenly mixed and air bubbles removed and the clay has the right consistency. All very important to reduce possible cracking during drying or in the open kiln.
For our finished work we decide on either pinch ball (thumb opening up the ball of clay and fingers of other hand guiding the wall into shape) or slab sculpting (we use a paper pattern on the rolled out clay to cut out components of a flower pot). All aided by a large number of tools offering the imprinting of an astonishing variety of shapes. A number of colours is on offer in the form of slip (liquid clay) for us to add paint effects to our sculpted object. And in Quentin Bell's pottery there is inspiration of form and colour and design to add to our own creativity if we choose to.
Time to add last touches before we place our work gingerly on a board to dry in time for Day 2. Then we will be spreading further out into nature to forage materials for the group to build the kiln and prepare for the firing of our ceramic pieces. And, of course, our fervent hopes will be for our work to rise like a phoenix from the ashes.
It has been an exciting and fulfilling day. So many things to enjoy and learn. The freedom to roam in inspiring and calming surroundings when we felt like it; a delicious lunch and cups of tea and coffee or a glass of water, and much admirable support from Lucy Bailey and her colleagues. To have had the good fortune to work with an outstanding teacher and artist like Ruby Taylor is something to celebrate. Her unique input created a wonderful experience for all of us.